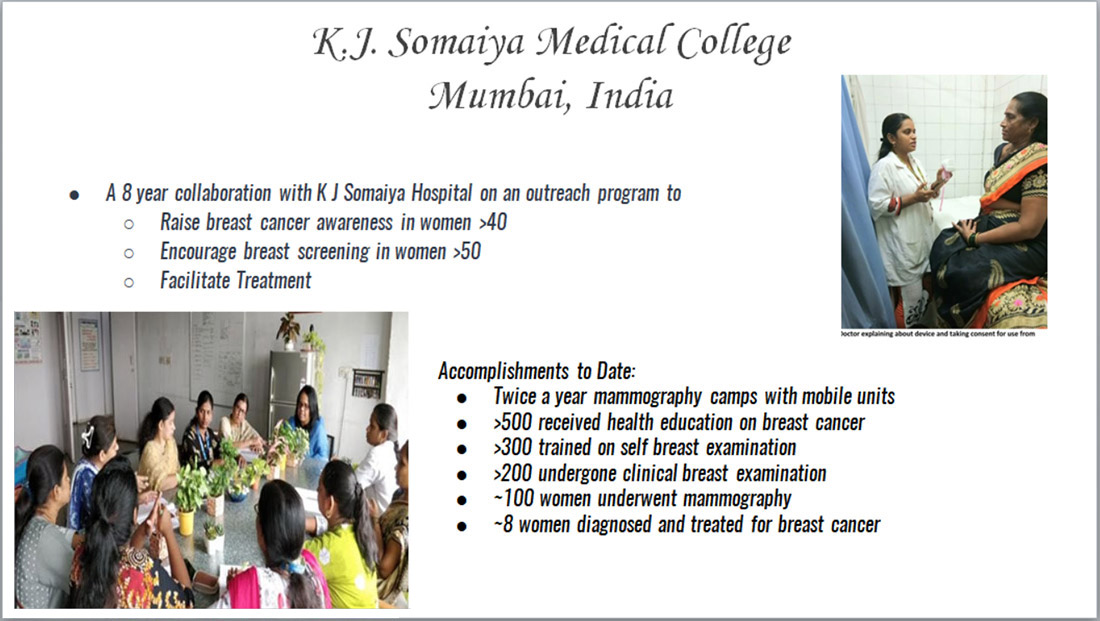 Dept. of Community Medicine at K. J. Somaiya Medical College, Mumbai
has adopted Pratiksha Nagar area (largely an urban slum) at Sion-Koliwada for Comprehensive Health Care Services. In collaboration with K. J. Somaiya Medical College we have started creating awareness among the community on breast cancer since January 2014.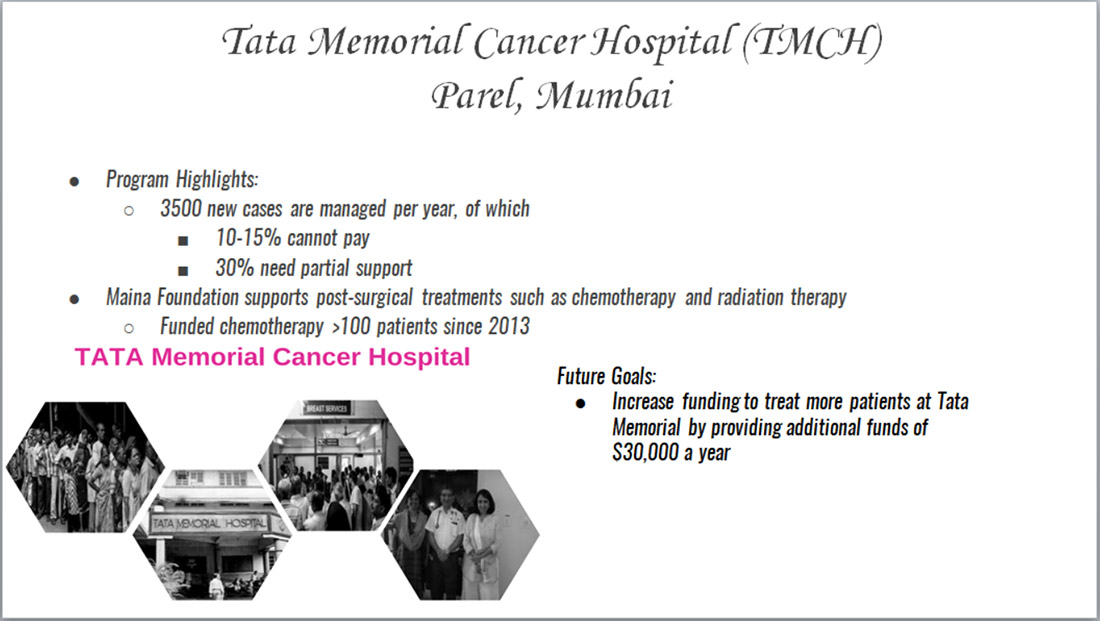 Tata Memorial Hospital (TMH) Mumbai
3500 new breast cancer cases are reported every year by the Tata Memorial Hospital Mumbai, of which 10-15% cannot pay (the target group to receive funds), 30% need partial support while 50% can pay for their treatment fully.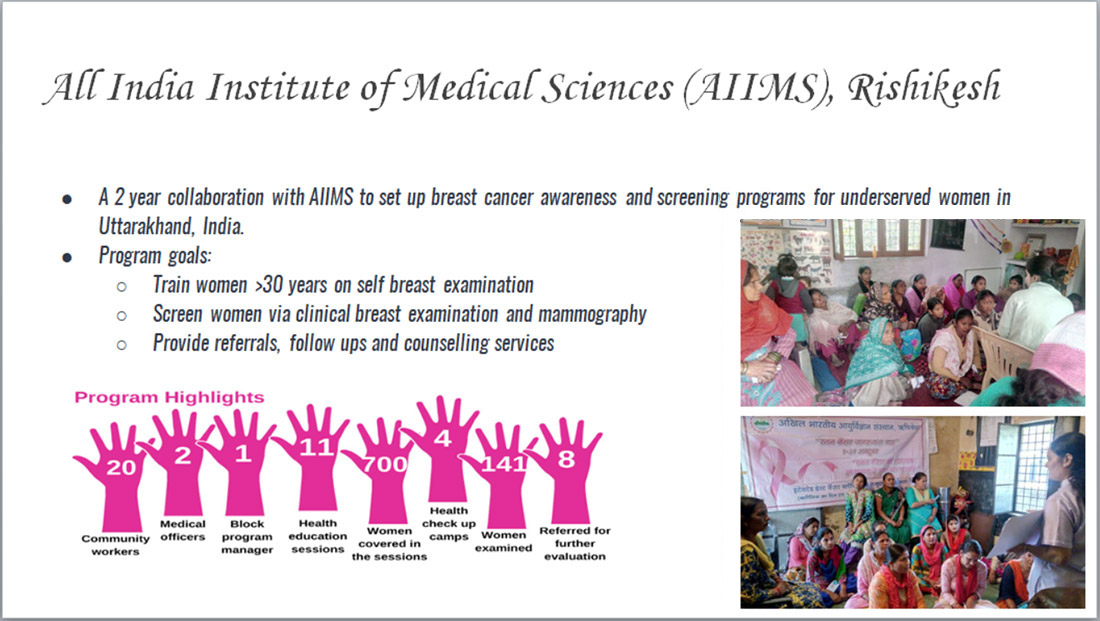 Train women over 30 on self-breast examination; motivate and screen women to undergo clinical breast examination and mammography; and provide referral, follow-up and counseling services.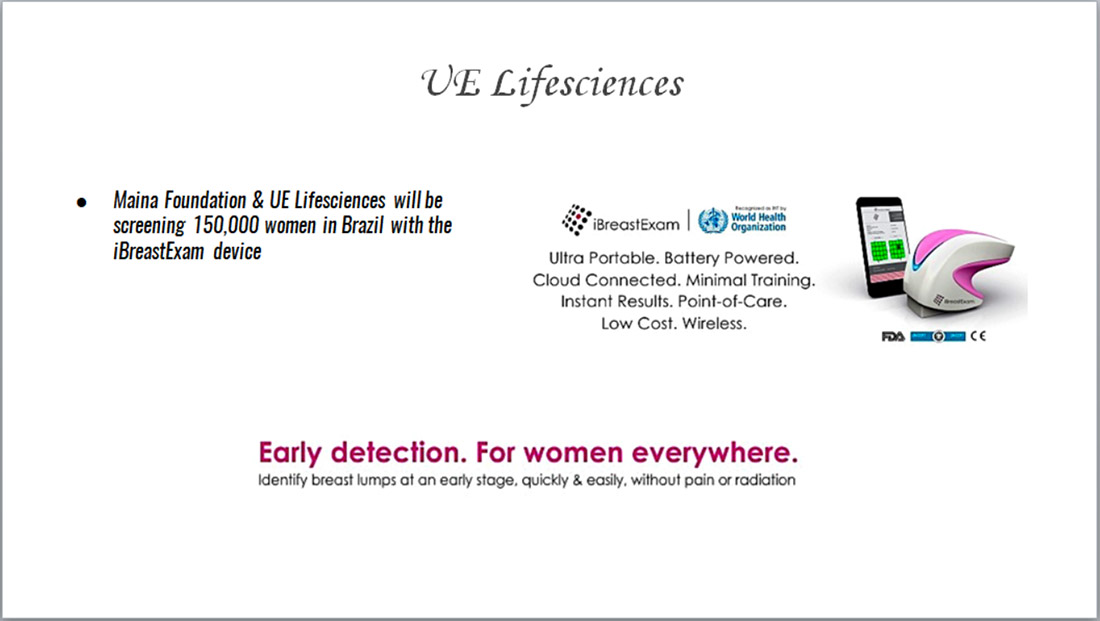 Mihir Shah is a visionary entrepreneur with >15 years of experience in bringing disruptive science from academia to clinic. Mihir is passionate to address global health disparities affecting many, with the power of scalable, affordable engineering and innovation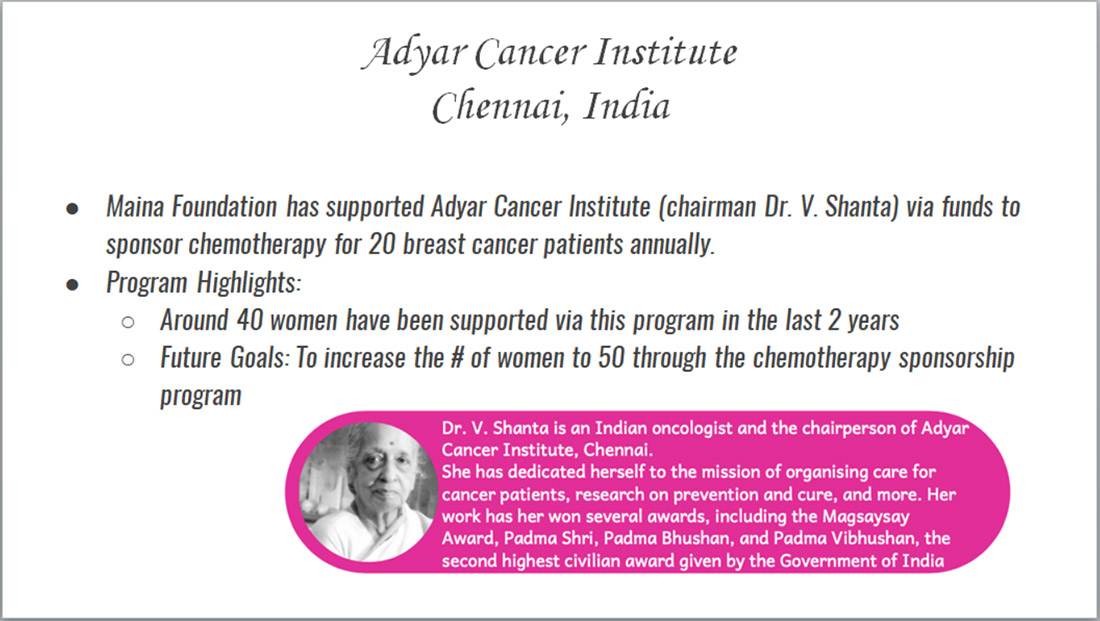 Adyar Cancer Institute (WIA)
Maina Foundation has supported Adyar Cancer Institute and Chairman Dr. V Shanta via funds to sponsor chemotherapy for 20 breast cancer patients annually.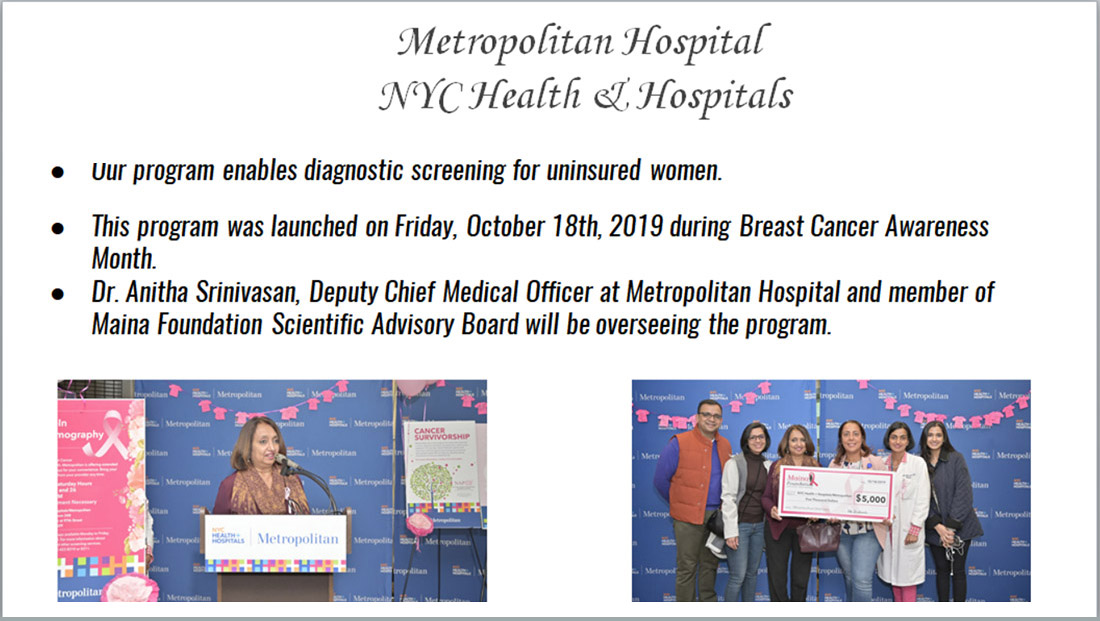 Metropolitan Hospital NYC Health & Hospitals
Our program enables diagnostic screening for uninsured women.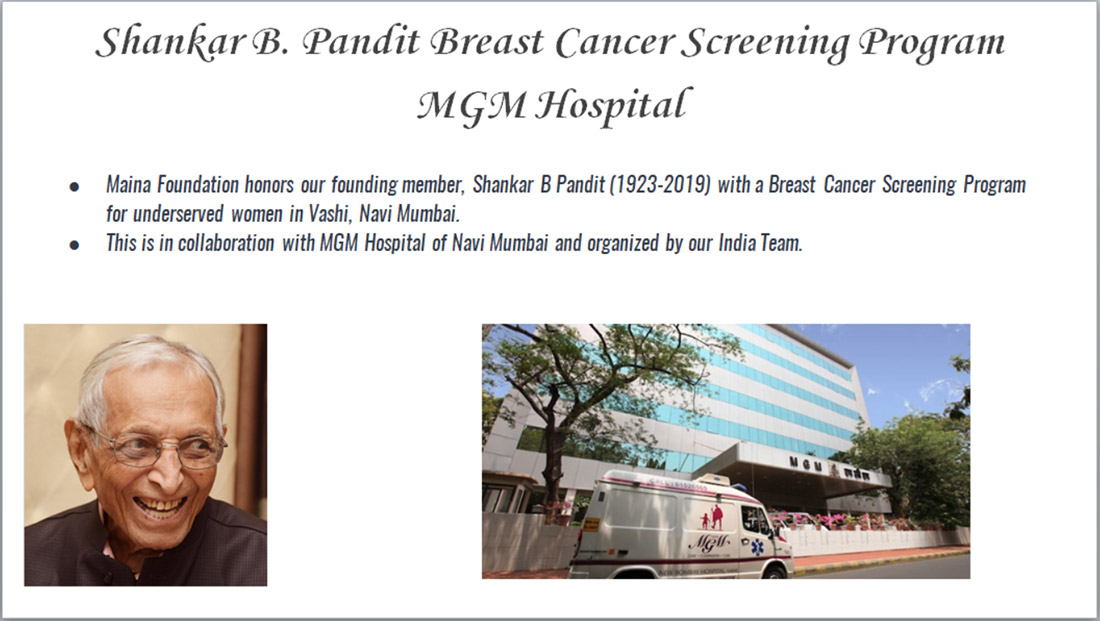 Shankar B. Pandit Breast Cancer Screening Program
Honoring our founding member, Shankar B Pandit (1923-2019), with a Breast Cancer Screening Program for underserved women in Vashi, Navi Mumbai.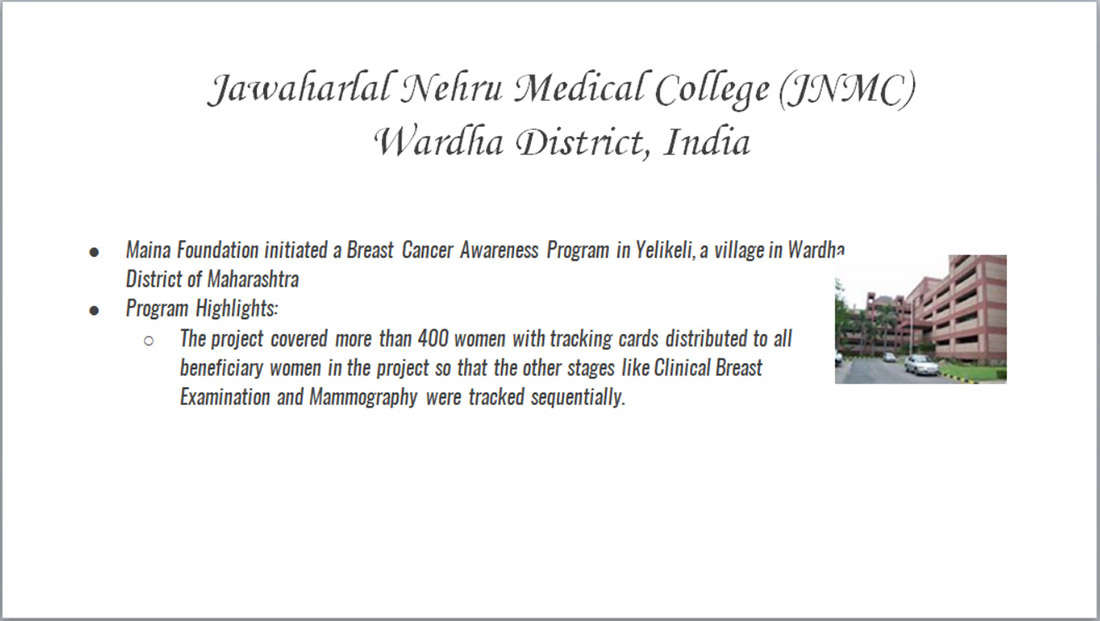 Jawaharlal Nehru Medical College (JNMC)
Maina Foundation initiated a Breast Cancer Awareness Program in Yelikeli, a village in Wardha District of Maharashtra .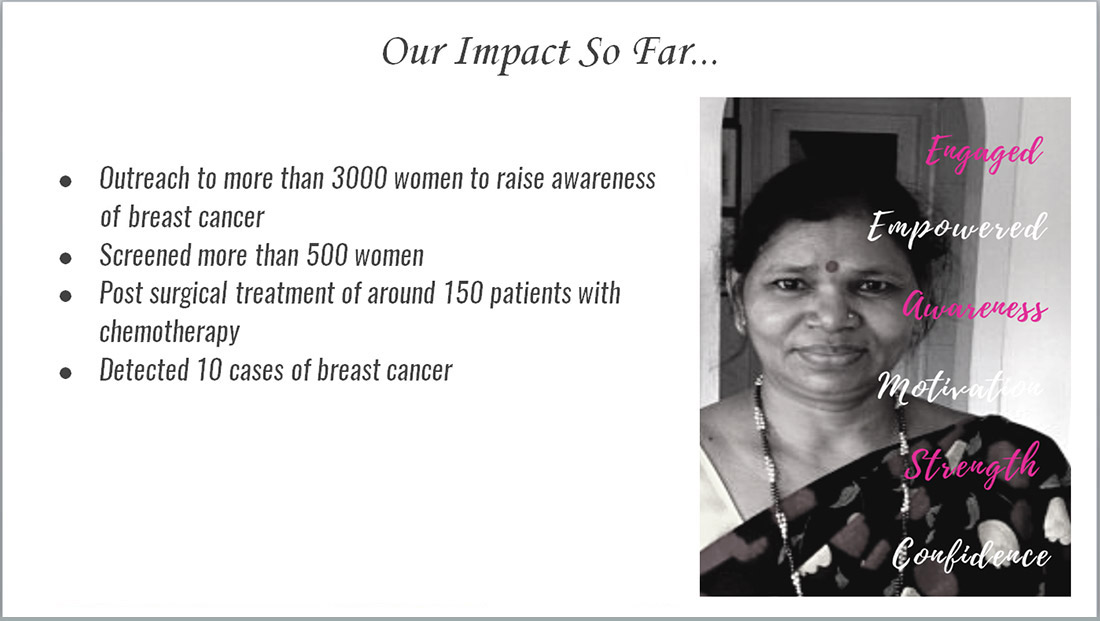 Outreach to more than 3000 women to raise awareness of breast cancer
Screened more than 500 women
Post surgical treatment of around 150 patients with chemotherapy
Detected 10 cases of breast cancer