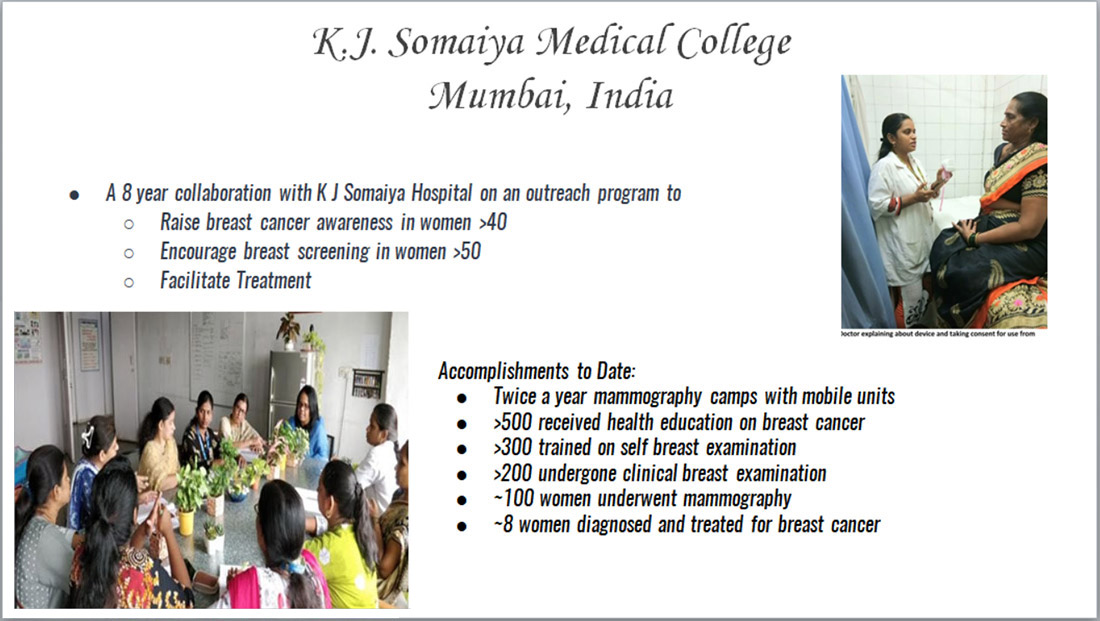 A collaborative project has been set-up with Somaiya Medical college, Department of Community Medicine to create the awareness of breast cancer in urban slum communities near the hospital such as Pratikshangar area since 2014.
The aim of the project is to create awareness amongst the community, regarding breast cancer, motivate the women to conduct regular self-breast examination, undergo annual clinical breast examination and mammography once in two years.
The K. J. Somaiya Medical College is a private Medical College owned and managed by the Somaiya Medical Trust located in the heart of city of Mumbai at Sion.
Study area: A low socio-economic group in the city of Mumbai, covering approximately 3000 households. Women, 40 years of age and older are referred by the health workers to undergo clinical breast examination at the clinic, situated at Urban Health Training Centre of K.J.Somaiya Medical College in Pratikshangar.
Implementation: Trained outreach health workers list eligible women from community and conduct one to one health education. Additionally they make several home visits and phone calls to motivate and remind women for attending the WOW (Wellness of Women) Clinic. During home visits they assess practice of self-breast examination (SBE), and remind women to continue SBE. During visits to the clinic, annual clinical breast examination (CBE) is done by the attending physician. Currently an iBreastExam device from UE Lifesciences is being used to screen all women. Annual mammography camps are conducted in the community by mobilizing a mobile mammography unit.
Women found with abnormalities are further investigated and offered referral services with a tertiary care hospital. The women were escorted to the hospital by the community outreach worker.
The tracking system employed in the project, ensures regular follow up of all women for annual clinical breast examination.
Results: Around 2430 eligible women aged 30 and above were enlisted. Around 47% women have participated in the project. In a period of four years from 2014 to 2017, 2249 clinical breast examinations were performed. Many of the enlisted women have undergone more than one annual examination. Almost 13 % were found to have some breast related abnormalities by the primary care physician. A large proportion of cases did not visit the surgeon or did not complete the investigations requested. Only 34% of the women completed the referrals successful. 358 mammograms were done. Six cases of breast Cancer were detected in a period of four years.
"Funding from Maina is not only helping us to create awareness amongst the community but also motivate women to undergo screening for breast cancer. The project also sensitized the staff working to motivate women attending clinic for other complaints to undergo breast cancer screening." – Dr. Padma Shetty, Professor and Head, Department of Community Medicine