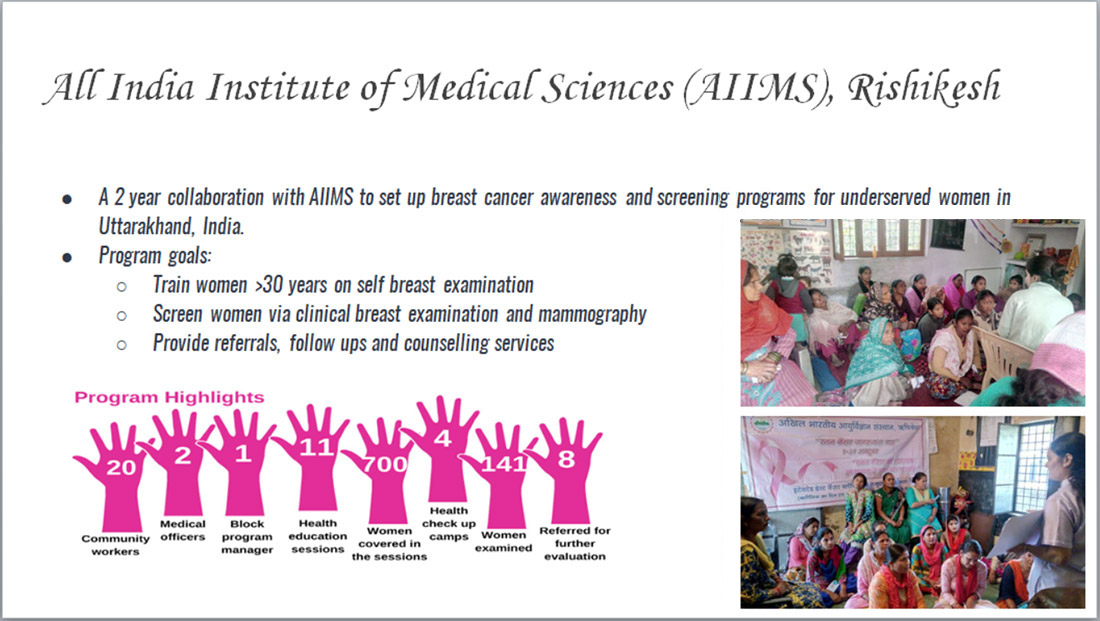 A collaborative program has been set-up in 2018 with AIIMS Hospital in Rishikesh, Uttarakhand in North India.
The aim of the project is to create breast cancer awareness amongst the community, educate women to conduct regular self-breast examination. Hold screening camps and follow up with women detected with abnormalities in CBE (clinical breast examination) / mammography so that the women undergo requisite investigations and treatment.
AIIMS Rishikesh is one of the SIX Apex healthcare institutes being established by the Ministry of Health and Family Welfare, Government of India.
Study area: A survey done in Uttarakhand found that breast cancer is the most prevalent cancer found in females (22.29%) followed by cervical cancer (14.86%) and ovarian cancers (13.51%). 1 A low socio-economic group of about 4000 women from rural areas of Rishikesh, Uttarakhand will be followed.
Implementation: Educate women between 30- 50 yrs. on modifiable behavioural risk factors of breast cancer such as obesity, tobacco use, alcohol use, unhealthy diet, lack of exercise, promote breast feeding
• Educate women about breast cancer and teach breast self-examination(BSE)
• Screening program: focus on women between 40-70 years age group.
• Perform clinical breast examination
• Develop a referral linkage for women detected with abnormalities on CBE/SBE or any other significant findings for further investigation with the hospital
Our Impact: 1300 women have been educated and 650 women were screened by CBE 21 camps for CBE were held of which 62 women were referred to hospital for further evaluation Mammography follow-ups of 45 women were normal except for 2 women who had benign mass detected by fine needle biopsy.
Reference – 1. .Bag, A., Rawat, S., Pant, N. K., Jyala, N. S., Singh, A., & Pandey, K. C. (2012). Cancer patterns in Nainital and adjoining districts of Uttarakhand: A one-year survey. Journal of Natural Science, Biology, and Medicine, 3(2), 186–188. http://doi.org/10.4103/0976-9668.101911