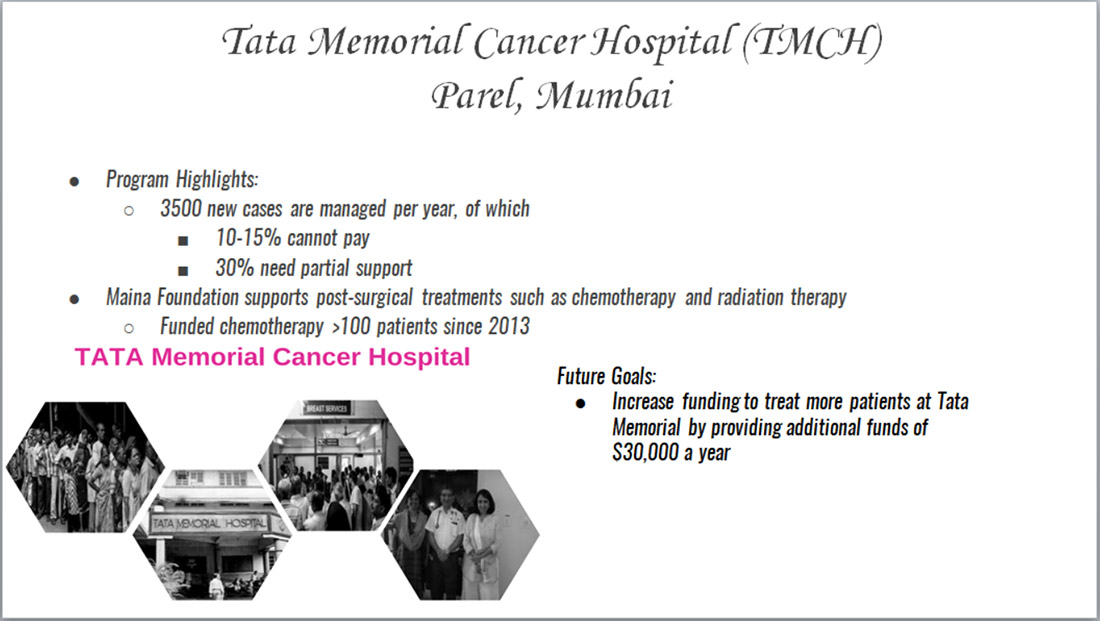 A collaborative program has been set-up with Tata Memorial Cancer Hospital in Parel Mumbai, since 2013 to support chemotherapy treatment for breast cancer patients.
The aim of the project is to support breast cancer patients with no insurance or finances to get chemotherapy and radiation treatment.
Tata Memorial Hospital is a specialist cancer treatment and research center. The hospital was founded on February 28. 1941. The center is the national comprehensive cancer center for the prevention, treatment, education and research in cancer.
Patient group: A low socio-economic group of cancer patients from all over India are admitted to the hospital, covering approximately 3500 per year. The surgical cost is covered by the government.
Implementation: A Maina Foundation account has been set-up for the benefit of women in need of chemotherapy treatment after breast cancer surgery. The tracking system employed for the program by the hospital identifies patients with no financial resources to get chemotherapy treatment from Maina Foundation funds.
Our Impact: Maina foundation has supported chemotherapy for over one hundred breast cancer patients since 2013.
On behalf of Tata Memorial Centre I would like to thank the Maina Foundation for its help and support in the treatment of underprivileged women patients at our institution for the past few years. – Dr. Sudeep Gupta, Director, Advanced Centre for Treatment, Research and Education in Cancer