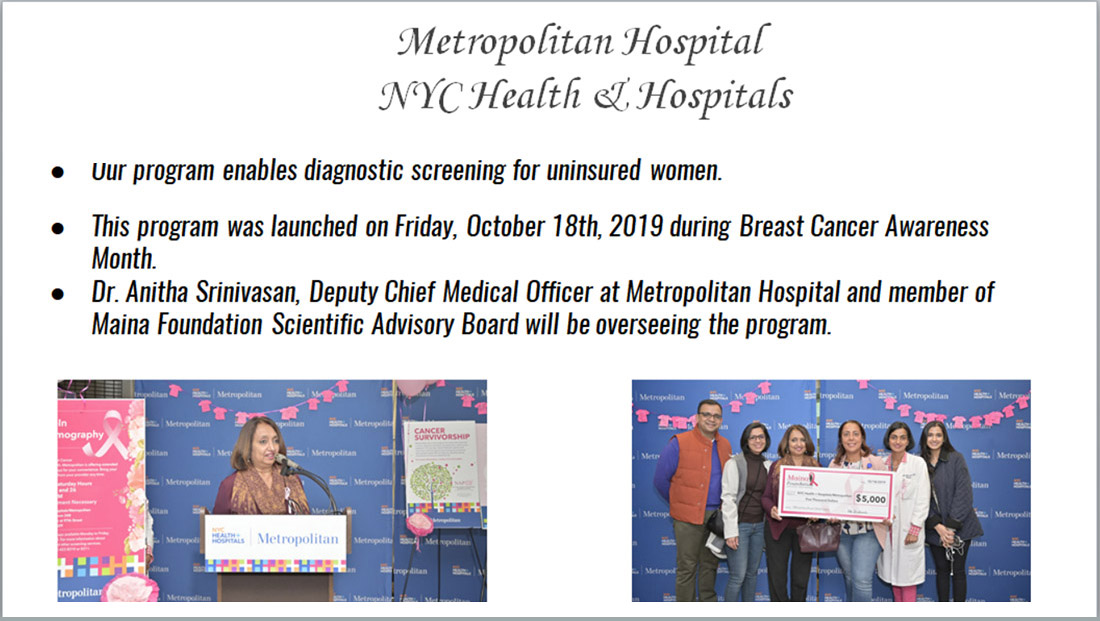 A collaborative program has been set-up with Metropolitan Hospital in Manhattan, New York under the leadership of Dr. Anitha Srinivasan since October 2019.
The aim of the project is to support breast cancer patients with no insurance or finances to get advanced diagnostic imaging.
Metropolitan Hospital Center (MHC, also referred to as Metropolitan Hospital) is a hospital in East Harlem, New York City. It has been affiliated with New York Medical College since it was founded in 1875. MHC is part of the New York City Health and Hospitals Corporation (HHC), the largest municipal hospital and healthcare system in the country.
In line with Maina Foundation's mission to expand awareness, and detection services, the Breast Health Center at Metropolitan Hospital aims to better facilitate patient access to care and services that is usually inaccessible for the at risk populations. In this category are the advanced imaging studies that are essential in some cases of breast cancer detection and treatment. With funding acquired through the Maina Foundation, Metropolitan can subsidize advanced imaging scans (PET, CT, and MRI) to help detect and determine the presence and extent of a patient's breast cancer disease and staging.