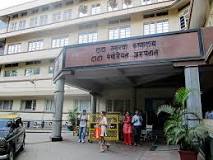 Give a gift of life!
It's oft repeated that life is not in our hands – it is God's gift. Now you have the power to give that gift – $300 can actually save a life.
Tata Memorial Hospital – a government of India institution in Mumbairegisters about 4400 new breast cancer patients every year of which 60% are stage 1 or 2, 70% undergo breast conserving surgery and 5% breast reconstruction.Every week about 45 curative surgeries are performed. About 10-15% cannot pay for any kind of treatment and are supported entirely by the hospital and another 40-50% are offered highly subsidized treatment.
The subsidized or free treatments include surgery, radiation, chemotherapy and hormonal therapy. Many patients cannot afford even subsidized post-operative treatments like chemotherapy etc. Most of these women have an excellent chance of getting cured if they complete their prescribed treatment. The basic minimum adjuvant treatment can be completed for many women, especially those that are HER2 receptor negative, in a sum of approximately ₹15000-20000 (approx. $300/-) This is an ideal opportunity to help these women in achieving a return to normal life.
Maina Foundation helps in funding the curative treatment of these women through a well-documented process in Tata Memorial Hospital in partnership with another NGO called the Women's Cancer Initiative. Started in the year 2013 in collaboration with Tata Memorial Hospital, the foundation has been able to transfer Rs 13 lakhs (about $20000) to the Hospital, which in turn has been able to save many women from this critically marginal group, who now are back to their families and lead a renewed life!
Come join hands to fight breast cancer! Help Maina Foundation to save more and more women from this malady!
Donate generously!