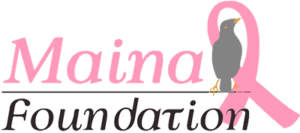 NEWSLETTER
October 2022
Breast Cancer Awareness Month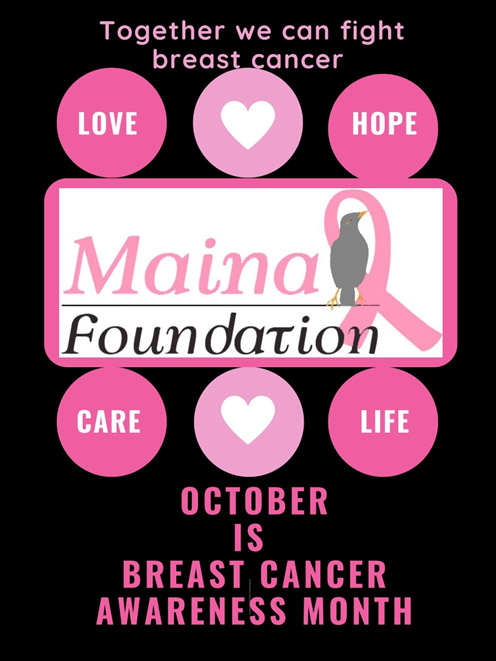 Dear Friends
As the seasons change, we at Maina Foundation hope you are keeping well, wherever in the world you may be.
For almost 40 years, October has been National Breast Cancer Awareness Month in the USA. It's the month when we educate ourselves and others on the importance of early detection, and timely care for breast cancer.
It's also the month we recognize the courage of our loved ones who battled this disease.
And it's the month we thank YOU, our dedicated supporters who are helping to spread the important message of early detection and high-quality treatment for all women, and men, suffering from this disease.
Join Maina Foundation as we move forward toward our mission—No Lives Lost to Breast Cancer.
One thing you can do to help directly is to start a Facebook fundraiser for Maina Foundation in October.
If you go to the Upcoming Fundraisers page on our website (at the bottom of the landing page), we outline the steps for setting up a Facebook fundraiser. People can pledge any amount they want, as in any crowdfunding. Feel free to contact us if you need help with it.
Please post and tag Maina Foundation on social media during the month of October:
Twitter: https://twitter.com/MainaFoundn
Instagram: https://www.instagram.com/mainafoundation/
Facebook: https://www.facebook.com/Maina-Foundation-392222510827041/
Some suggestions for hashtags:
#breastcancer
#breastcancerawareness
#breastcancerawarenessmonth
#breastcancerwarrior
#breastcancerfighter
#breastcancersupport
#pinkribbon
#pink
Please reach out if you have additional questions.
Thank you.
We thank you for your continued support!
For more information on Maina Foundation, and to help its mission, go to https://mainafoundation.org or contact us at 860-434-3985 or info@mainafoundation.org

SAVE A LIFE - DONATE NOW

Donations can also be mailed to:
8 Peppermint Ridge, Old Lyme, CT 06371, USA