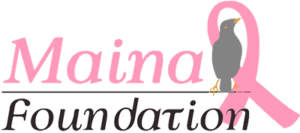 NEWSLETTER
October 2022 #2
Breast Cancer Awareness Month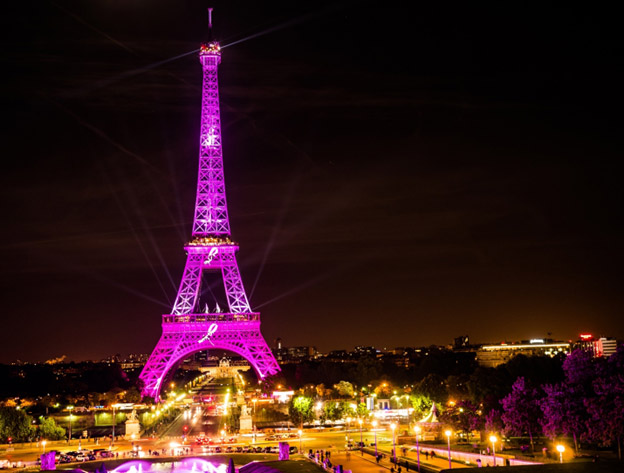 What is BRCA
By
Manju Soni

Welcome to the Maina Foundation Newsletter!
Hi friends. I hope you're keeping healthy and getting out those lovely scary outfits for Halloween during this October, Breast Cancer Awareness month.
I don't go overboard with the whole haunted house decorating thing, but I'm always excited and well-armed with candy. Once, I tried to scare the kids with this mask when I opened the door. Sadly, most of them laughed at me, and the only person I managed to scare was a 6-year-old girl, of course I felt horrible about that.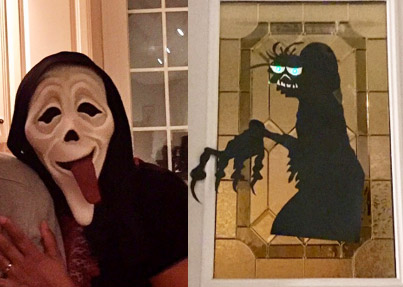 In the past two newsletters I discussed the basic cause of cancers—mutations in DNA—and the role of mammograms in breast cancer screening, as well as the pros and cons of self-examination. This month we'll talk about the BRCA genes and why they're important to know about.
I want to stress if you have any concerns whatsoever about your health, you should consult your healthcare provider, this newsletter, and the Internet in general is NOT a doctor. However, it is a good place to gather information, I found the Susan G. Komen website particularly helpful.
What is BRCA?
I love jewelry, especially gold necklaces. If you look closely, you'll see a necklace gets its flexibility from being made up of tiny chunks of gold connected together.
Now, imagine DNA to be a really long gold chain that twists on itself, and the chunks in it are called genes, tiny strands of DNA, part of a much larger, longer strand of DNA.
Genes are therefore subdivisions of DNA and are passed down from parents to their children. Often multiple genes act together to give us characteristics, like eye color and personality, and scientists have not even begun to fully understand what each gene does and how it interacts with other genes to create us, and what goes wrong when we develop a genetic disorder. This then brings us to BRCA.
What are BRCA1 and BRCA2?
BRCA1 (BReast CAncer gene 1) and BRCA2 (BReast CAncer gene 2) are protective genes that make proteins to help repair damaged DNA in various organs, and especially in the breast and ovaries. Everyone has two copies of each of these genes—one copy inherited from their mother and one from their father.
Normally, BRCA 1 and 2 are protective, their job is to suppress tumors caused by mutations in cells. But when they have certain mutations themselves, they can no longer do their normal function of suppressing tumors. These mutations are called harmful variants of BRCA.
How common are harmful variants of BRCA 1 and 2:
In the general population, in both men and women, about 0.2%–0.3% of people have harmful variants of BRCA genes, that is ~1 in 400.
How much does an inherited harmful variant in BRCA1 or BRCA2 increase a woman's risk of breast and ovarian cancer? Some numbers:
General population: ~13% (13 out of 100) of women in the general population will develop breast cancer sometime during their lives.
In women who have a harmful BRCA variant the risk is higher:
Harmful BRCA1 variant: 55%–72% (55-72 out of 100) women who inherit the harmful variant of BRCA 1 will develop breast cancer by 70–80 years of age.
Harmful BRCA2 variant: 45%–69% (45 -69 out of 100) women who inherit the harmful variant of BRCA 2 will develop breast cancer by 70–80 years of age.
In essence, having the harmful variant of either BRCA 1 or 2 definitely increases your chances of developing cancer.
Women with harmful BRCA 1 or 2 variations are also at increased risk of ovarian, and other types of cancer. People who have inherited a harmful variant in BRCA1 and BRCA2 also tend to develop cancer at younger ages than people who do not have such a variant.
It's important to remember, a harmful variant in BRCA1 or BRCA2 can be inherited from either parent.
Men with BRCA2 variants, and to a lesser extent BRCA1 variants, are also at increased risk of breast cancer and prostate cancer.
Who should consider genetic counseling and testing for BRCA1 and BRCA2 variants?
Anyone who is concerned about the possibility that they may have a harmful variant in the BRCA1 or BRCA2 gene should discuss their concerns with their health care provider or a genetic counselor.
Routine general population testing is not currently recommended as we would have to screen hundreds of people to diagnose even one carrier.
However, if you have a strong family history of BRCA related cancers the likelihood of your carrying a harmful variant of the BRCA genes is higher.
How can a person who has inherited a harmful BRCA1 or BRCA2 gene variant reduce their risk of cancer?
This is where decision making gets complicated.
• Some women who test positive for the harmful BRCA 1 & 2 variants may choose to start breast cancer screening earlier, and more frequently.
• Another option is risk-reducing, also known as prophylactic surgery, such as actress Angelina Jolie had. Women may choose to have both breasts removed, and maybe even both ovaries.
• Chemoprevention, the use of medicines to reduce the risk of cancer. Two chemopreventive drugs (tamoxifen [Nolvadex] and raloxifene [Evista]) have been approved by the Food and Drug Administration (FDA) to reduce the risk of breast cancer in women at increased risk, but the role of these drugs in women with harmful BRCA1 or BRCA2 variants is not yet clear.
It's important to remember though:
• Even if one person in your family has a harmful BRCA variant it doesn't mean everyone in the family has it. For example, if your mother has a BRCA1 gene mutation, there's a 50 percent chance you'll also have a BRCA1 gene mutation (you get half of your genes from your mother and half from your father).
• If you have a harmful BRCA variant there's a ~50% chance you will develop breast or ovarian cancer, but there's an approximately equal chance you won't. You know, that half glass full vs half empty thing that is life in general.
• And, you are not alone. There are support groups that are a valuable resource that may help guide you. For example, FORCE is an organization that provides online and telephone support and a resource guide for individuals and caregivers affected by hereditary breast, ovarian and other cancers.
Thank you for reading, and stay healthy, continue screening for you and your loved ones!!
Manju Soni (she/her) (pen name: M. J. Soni) is a former eye surgeon turned author. She is the author of Defying Apartheid, her debut nonfiction book that captures her experiences of being a young activist against apartheid. Her short fiction and essays has appeared in Ellery Queen Mystery Magazine, Akashic Books, Apeiron Review and The Establishment. She's a member of Crime Writers of Color and Sisters in Crime (National and Connecticut).
https://manjusoni.com | @MJSoniWrites
News!
News 1: "When someone we love has cancer, we are all affected — husbands, wives, mothers and fathers, sisters, brothers and friends. This is our effort in the fight against cancer." — Ralph Lauren
Aditya Birla Fashion and Retail Ltd. who has a store license and distribution agreement with Ralph Lauren Asia Pacific Ltd. in India, has agreed to donate to Maina Foundation 25% of gross sales of Ralph Lauren Pink Pony products in India and 100% of sales of Ralph Lauren LIVE/LOVE pink T-shirt from their retail stores for one year beginning 1 Oct 2022.
This is the second time Maina Foundation has been selected for the Pink Pony campaign, the first being in 2020.
News 2: For the month of October 2022, Maina Foundation will receive a $1 donation from each purchase of the $2.50 reusable Community Bag at the Big Y stores located at 90 Halls Road, Old Lyme CT and 995 Poquonnock Rd, Groton CT.
EVENTS AT MAINA FOUNDATION
On October 1, Maina Foundation supporters hosted a fun-filled Holiday Boutique Shopping experience in Charlotte, NC. As with our Breast Cancer Awareness walk in Connecticut, Mother Nature was kind enough to not rain on our parade.
The ladies came out in their finery and happily bought gifts in preparation for the upcoming holidays. Thank you!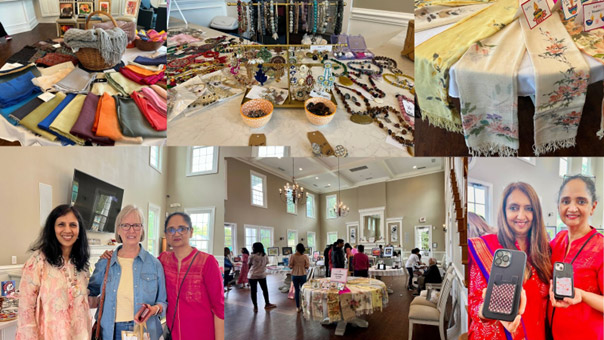 We thank you for your continued support!
For more information on Maina Foundation, and to help its mission, go to https://mainafoundation.org or contact us at 860-434-3985 or info@mainafoundation.org

SAVE A LIFE - DONATE NOW

Donations can also be mailed to:
8 Peppermint Ridge, Old Lyme, CT 06371, USA