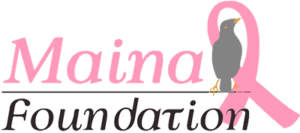 NEWSLETTER
July 2022
NO LIVES LOST TO BREAST CANCER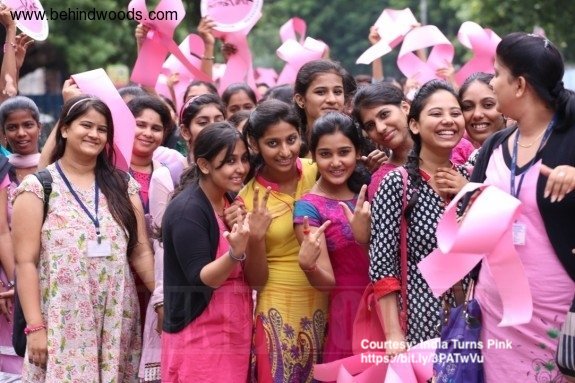 What is Maina Foundation?
By Manju Soni
Hi Everyone... Welcome to the Maina Foundation Newsletter!
I hope you're enjoying the beautiful birdsong and lush greenery of the long days of summer 2022.
Today we're going back to our roots to talk about Maina Foundation and how it came about.
The Foundation was established in 2008 and its mission is to increase awareness of breast cancer, promote early detection of it, and offer financial assistance, where we can, for treatment. We work at a grassroots level and donate funds to hospitals and clinics to further the cause of early detection.
Founder Alka Shrikhande shares her thoughts on the organization.
What inspired you to start Maina Foundation?
Alka: Although breast cancer is a major form of cancer affecting women, a fundamental need is to raise awareness of this disease and help with screening for early detection in several parts of the world. Early detection of breast cancer is crucial for successful treatment of the disease.
My mother, who after being diagnosed with breast cancer at an advanced stage fought the disease valiantly, however she lost the war. The question which I ask always is, would she be around if the cancer had been detected earlier with yearly mammographs.
Her bravery was the inspiration to channel our grief towards helping women.
Who is Maina? Please tell us a bit more about her.
Alka: Maina (Shailaja Pandit) is my mother, who although no more, lives on through Maina Foundation. In 2003 she was diagnosed with breast cancer, and was treated in NYC. The disease metastasized due to the late stage of diagnosis and she passed away in 2006.
A mother is always dear to everyone. Maina was a very beautiful and loving lady, who was known for her kindness and generosity. Her melodious voice brought her recognition for her singing. By nature she was a quiet and shy person, however she was always in the forefront when helping women. Maina Foundation is a testimonial of her work and her life.
What are your hopes for the Foundation?
Alka: The vision of Maina Foundation is – 'No Lives Lost to Breast Cancer.'
We all know that healthcare is not equitable in all parts of the world. Preventive care, health insurance and treatment programs are not always accessible to everyone. Working at the grass roots, the mission is to provide information of breast cancer to women in underserved communities and help with screening.
It is a long journey, however, the hope is that no one loses a mother, sister, daughter, wife, or friend because they were not aware of breast cancer.
What excites you about Maina?
Alka: Our work and Our Impact:
Outreach to thousands of women to raise awareness of breast cancer
Screened over 1000 women
Post-surgical treatment of 150+ patients with chemotherapy
Through the years I have had the opportunity of meeting people from all walks of life, have worked with hospitals and the staff on several programs. Meeting talented and dedicated people is inspiring and seeing the impact of our teamwork in low income communities gives me encouragement to keep on working.
Why is most of Maina's work in India?
Alka: Our goal is to help women in need and we are open to setting up programs when approached by health organizations.
In India, only 1 – 8% of women with breast cancer present with Stage 1 disease, the stage with the best prognosis and most helped with early detection. Compare this with 60 – 70% of women with breast cancer in the United States. [1].
Thus, the need to spread the awareness of breast cancer in India is huge, very often the cancer is detected in late stages increasing the mortality rate from the disease. Please check out https://mainafoundation.org for a list of our projects.
In the last ten years through our collaborations with Somaiya Hospital in Sion, Mumbai, AIIMS in Rishikesh, Uttarakhand, Tata Memorial Hospital in Parel, Mumbai, Adyar Cancer Hospital in Chennai to name a few, we have had a significant impact on raising awareness of breast cancer in underserved communities.
In USA we are partnering with Metropolitan Hospital in New York for funding advanced diagnostic screening for women for breast cancer.
[1]: Leong SP, Shen ZZ, Liu TJ, et al: Is breast cancer the same disease in Asian and Western countries? World J Surg 34:2308-2324, 2010.
How can readers of this newsletter help Maina Foundation?
Alka: Maina Foundation is a volunteer based non-profit organization where people donate their valuable time to make a difference.
We are always grateful for support through donations.
And we are looking for volunteers to organize fund raisers, help with social media and writing.
Thank you!
WALK WITH US
Breast Cancer Awareness Walk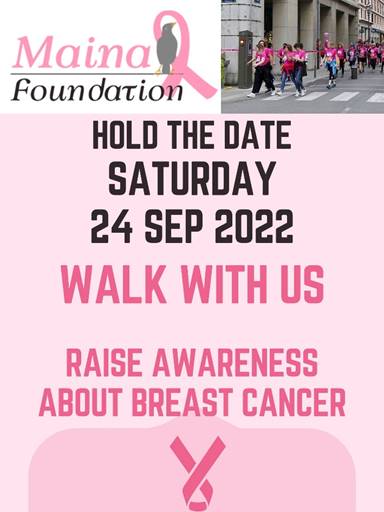 Manju Soni (she/her) (pen name: M. J. Soni) is a former eye surgeon turned author. She is the author of Defying Apartheid, her debut nonfiction book that captures her experiences of being a young activist against apartheid. Her short fiction and essays has appeared in Ellery Queen Mystery Magazine, Akashic Books, Apeiron Review and The Establishment. She's a member of Crime Writers of Color and Sisters in Crime (National and Connecticut).
manjusoni.com | twitter.com/MJSoniWrites | email: manjusoni150300@gmail.com
For more information on Maina Foundation, and to help its mission, go to https://mainafoundation.org or contact us at 860-434-3985 or info@mainafoundation.org

DONATE NOW

Donations can also be mailed to:
8 Peppermint Ridge, Old Lyme, CT 06371, USA